5/12/16
Good Afternoon Sisters and Brothers,
In an effort to keep you updated, Your Employer notified this Union today, that retroactive pay on your negotiated raises will be paid to all associates who qualify, in your paychecks week ending May 26th, 2016.  The retroactivity will be for all hours worked back to February 28th, 2016 when your prior contract expired up until the week that you received your raises.  Please contact your Union Office at 1-800-842-2215 should you have any questions or concerns.
Fraternally Yours,
UFCW Local 919
Local 919 Members Ratify their New 3 Year Stop & Shop Contract!
4/12/2016
Dear Sisters and Brothers,
As we prepare for our Contract Ratification Meeting on April 19th 2016, we cannot stress anymore the importance for you to be in Attendance. We know that Local 1445 has a meeting set on April 17th, but that is THEIR Meeting!! The 5 Locals bargained this deal in Unity, but due to logistical obstacles, we were not be able to secure a common date for ratification. It would be short-sighted on behalf of the membership for you to stay away from a vote merely because of any information that is released via Social Media. This new agreement provides many enhanced provisions and also includes some that may be considered complex if not given proper explanation. Do not allow for others to decide your future!! Come, listen and vote on the Local 919 Contract Proposal from Your Employer as presented by YOUR Leadership.
We are still reviewing documents and are making certain that each and every item intended for agreement is reflected thereby avoiding any confusion by the bargaining Parties.
We look forward to seeing you Tuesday.
For The Opportunity of Serving You,
I Thank You and Remain,
Sincerely and Fraternally,
Mark
4/9/2016
Tentative Agreement Reached
I am pleased to announce to you that this afternoon, all five New England locals, 328, 371, 919, 1445, 1459 came to a tentative agreement with your employer Stop & Shop.
After 57 sessions and going on 41 days beyond expiration, the parties have reached an agreement that all can be proud.
We will be spending the next week reviewing the final document as well as having it reviewed by our International Union and Local Union legal counsel.
I would personally like to thank everyone for their continued support and patience with our negotiation strategy during this very long process.
We will be notifying everyone next week regarding the time and place of our ratification meeting.
Once again, thank you for your support and solidarity.
Our Unity is our Strength and our Strength is our Unity.
Sincerely and Fraternally,
Mark A. Espinosa
President
4/8/2016
Good Afternoon Sisters and Brothers,
Today, all 5 Locals continue to exchange proposals with your Employer as we inch closer to a tentative agreement. The focus centers on wage scales for current and future Full and Part-Time employees. Although we agree in concept on the wage progressions, we disagree on the amount of the proposed increases. As reported yesterday, we need to also secure retroactivity on any agreed upon raises. Your Employer has also proposed an infusion of over 400 new Full-Time jobs during the contract, beyond any jobs that are replacements for those members who retire or separate employment.
I am hopeful a deal can be reached in the next few days. I will update you again of our progress being made on your behalf. Please know that your unity and strength in the stores is felt here in Providence! Continued patience will bring forward the satisfactory agreement you all deserve.
For the Opportunity of Serving You,
I Thank You and Remain,
Sincerely and Fraternally,
Mark A. Espinosa
4/7/16
Good Morning Sisters and Brothers,
I write you a quick update from the bargaining table this morning. Both sides worked attempting a resolution through late last night. Although progress is being made, which include important improvements for you, we still have a few open items such as wages, retroactivity and a "double time" freeze for Sundays and Holidays. Your Employer's latest proposal last night created additional questions. It is impossible for us to consider and/or agree to their proposals, let alone respond, if we do not understand the intent of the Company's desires.
The 5 Locals continue to remain United in Strength! We will continue to update you of any changes. Stay calm, stay strong! Again, we wish to Thank You for your understanding during this difficult process.
In Solidarity,
I Remain,
Sincerely and Fraternally,
Mark
4/5/2016
Good Evening Sisters and Brothers,
It is indeed the first week of April 2016. None of us on the Unions' side of the table expected these negotiations to continue this long, yet here we remain, in Providence, still bargaining. We remain at the table as does your Employer, trying to reach the best possible agreement worthy of your vote. All five locals continue to bargain with a forged strategy and a conclusion in sight. Today, we concluded our most recent round of negotiations. Progress has been made and there are some tentative agreements. Even though we have made progress, we still have the sticking issue of the Company's promise of newly created full-time jobs. While we believe that most items pertaining to existing employees have been resolved, we remain concerned over the Company's continued desire which is calling for a reduced standard of full-time employment with the very jobs they tell us will be created. Your Employer's proposals will diminish the pay and benefits for the "unborns" and yet can still negatively impact existing part-time employees who may become full time one day.
We are confident that once we have finalized this problem we will FINALLY be able to bring you a deal of which you can be proud. Stay Strong and please know we continue working in YOUR best interest. We will be back with the company tomorrow morning. We will continue to update you of details as they arise. The stress is high during this process, but never forget the privilege of being able to negotiate your terms of employment, wages, health insurance and pension as opposed to employment at-will, waiting for the boss to drop scraps off the table. It continues to be an honor to be your Voice!
Sincerely and Fraternally,
Mark
4/1/16
Greetings Sisters and Brothers,
Today, we met with Stop & Shop lead negotiators in Providence. A meaningful exchange of ideas was discussed. Your Employer is eager to get a deal, as are we, but there still remains a few outstanding issues to be resolved. These issues include pension benefit levels and health and welfare employee contributions for new Full-time employees. A double time freeze as well as wage caps on newly promoted or hired FT employees after ratification still remain on the table as well. All 5 Local Unions will resume bargaining with Stop & Shop on Monday April 4th, 5th and 6th.
As I have committed to you many times, we will work as long as necessary to resolve these and any other issues that remain. In exchange for that commitment, I ask you to continue your faith and trust. There is nothing more important than the privilege I have of being your chief negotiator and President. We will CONTINUE to keep you posted and will notify you when we finally conclude your new contract.
We ask that you continue to work hard while we work to reach a fair deal. The community and your customers are engaged in these negotiations, but still rely on your dedication to them and your Employer. Without your customers continued patronage, none of this works!
I Remain,
Sincerely and Fraternally Yours,
Mark
3/30/2016
Good Evening Sisters and Brothers,
Today, myself, and the 4 New England Local Presidents met in New Jersey with Union Presidents from all Ahold Locals, as well as Regional Director Tom Clarke, International Director of Collective Bargaining Kevin Williamson and International President Marc Perrone. The reason for today's meeting was to discuss the issues that remain on the table and plan our strategy as a united coalition moving negotiations forward to secure the best contract we can for you all. As I have mentioned many times before, these negotiations are the most complex I have seen. As a Union, we must meet the complexity with a strong strategy. President Perrone has committed full resources to all 5 Locals as we move forward.
The Union will be meeting with Stop & Shop Thursday and Friday. The issues that still remain on the table are harmful to existing and future employees. We are working to establish less detrimental conditions for both the new hires and those promoted to full-time positions. We will report to you any progress. We do not want to rush to a bad deal. You are working, we want you to stay working. More strategies will be revealed while this process continues. We realize these negotiations may create a stressful time for you in the stores. They are equally stressful for your Union Leadership as well. We continue to ask for your trust and patience moving forward. We are working hard to a conclusion worthy of your vote. Do not give in to rumors and facebook chatter. If you are unsure of things heard or have questions, call your Business Representative or email the Union Office. Stay informed! Stay United! In Unity there is Strength! In Division there is Weakness!
For the Opportunity, I Thank You and Remain,
Sincerely and Fraternally,
Mark A Espinosa
President UFCW International President Marc Perrone, UFCW Director of Collective Bargaining Kevin Williamson and The 5 New England Local Union Presidents today in New Jersey!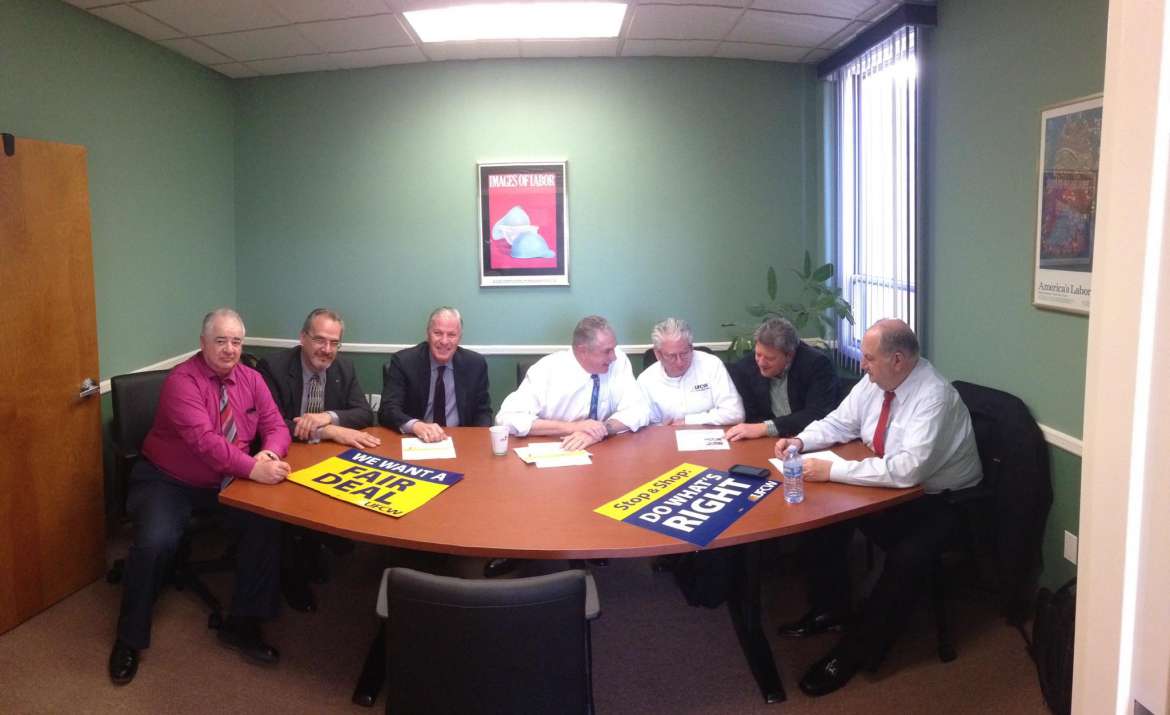 3/24/16
Dear Sisters and Brothers,
This week Kevin Williamson, International Executive Vice President and Director of Collective Bargaining joined us in negotiations. Kevin arrived this week with the hopes of assisting the five New England Locals in achieving a final agreement with Stop & Shop.
Upon arrival, Kevin, along with the five Presidents, began working on the many issues that still remain open. As reported in prior updates, some of these issues revolve around the Company's attempt to introduce a new tier of full-time employees. Any of these new Full-time positions as proposed by Stop & Shop, have the potential of negatively impacting the present full-time complement of Stop & Shop employees.
Over the last two days, Kevin has been in constant contact with your International President Marc Perrone and has made him fully aware of all that has transpired up to today. President Perrone has assured us that the five locals have the full support and backing of the entire International Union, and their 1.3 million members, for whatever is needed to bring you a contract worthy of your approval. At some point very soon, we may need to increase the pressure on your employer until they change their position on any of these outstanding issues.
After a strategy meeting next week with President.Marc Perrone, all five Locals will reconvene negotiations with the Company. We will continue to keep you updated to any changes or actions that we may require the assistance of this Union. Thank you for your continued support, and solidarity. Our Unity is our Strength and our Strength is our Unity!
In solidarity,
I remain
Sincerely and Fraternally Yours,
Mark
3/22/16
Greetings Sisters and Brothers,
All five New England Local Unions resumed bargaining this morning. Discussions centered around mainly two issues. The topic of wage scales was discussed at length. The creation of the new Full-Time position and its' conditions took up the rest of the session. We are, at this writing, awaiting the return of your Employer with their response to our latest proposals. We wish to remind all of you that these contract negotiations are even more complex given the Company's stated desire to "restructure the cost of future business." Whatever is decided here at the table could have far-reaching implications. You, the existing employee/member, also can be negatively impacted by certain standards your Employer is attempting to achieve. Much of what we continue to see proposed may not prove cost efficient to the Company now but their desire for these savings are not necessary! This is also demonstrated through some of the counter-proposals the Locals have presented to your Employer. We ask the question, "how much is enough"? These negotiations have demonstrated that Stop & Shop is requesting many things that can be viewed as "Wants, Not Needs"!!
A terrific turnout at the rally at Stop & Shop in Norwalk took place today. We want to thank those of you who came out and supported the cause. If you were unable to attend, try and attend tomorrow. As posted, we will be at the East Hartford store at 4 p.m. Send the Company a Unified, Loud Message! As we have mentioned, we want to resolve these matters, but will not rush to a bad agreement. Thank you for the commitment you have showed thus far.
Sincerely and Fraternally,
Mark A. Espinosa
President
3/18/16
Dear Sisters and Brothers,
At this writing, we are in a caucus awaiting the company's return to give us a response to our latest wage proposal. Most of this day's session has been spent reviewing their proposals on their desire to create a new Full-time classification. We want to work cooperatively with your Employer in order to increase the Full-time workforce. This being said, we should notify you that under the current proposed conditions of this new position, we are struggling with the negative implications of that position as set forth by your Employer. In its current status, the proposal weakens the conditions and benefits of a Full-time employee which has taken many years of hard bargaining to achieve. We are open to continue discussing the possibility of these promised new Full-time jobs. We intend to safeguard not only your position but the future "not yet hired" employee/member. While we can report that some substantial movement has been made in discussions surrounding all health and welfare benefits, we still are not done on that matter. Again, we intend to keep your Employer dealing on these important matters throughout the weekend. While this difficult negotiation continues, it is our intention and belief that you are in a better position while you are still working. We want you to keep receiving your paycheck. We want to be able to continue paying your health claims. We want your Employer to keep contributing its' financial obligation to your pension plan. Therefore, to those of you who may question our strategy as to why we are not taking drastic job actions, such as a strike; please know that it is in your best interest that we remain at this bargaining table. We thank you for the faith in our ability that you continue to demonstrate. We are honored to be your voice during these very hectic and frustrating times.
For the Opportunity of Serving You,
I Thank You and Remain,
Sincerely and Fraternally,
Mark
3/17/2016
Dear Sisters and Brothers,
We want to update you from Providence tonight. After a long day of negotiations, we can inform you that a POSITIVE STEP was taken regarding matters of Pension and Health & Welfare which has been a major contention. Many other issues, of course, remain open. The bargaining committee of the 5 Local Unions have remained unified and strong. We all are working toward the proper settlement we know you all desire and deserve.
We are still discussing a major issue with your Employer regarding Sunday premiums. This battle continues as the company's desire to make Sunday a regular day of the work week for new hires. We realize this would greatly impact your potential hours on Sunday for existing people at one and ½ and double-time. As we have reported to you many times before, we are one of the three local unions in the country to maintain double time on Sunday and we can tell you that your employer does not want to continue with this cost as it stands today. They have repeatedly during bargaining made the statement that they are interested in restructuring their future cost of doing business.
We have been assisted by our Regional Director's office and the International Union's resources. Many of you have seen not only your own business agent many times in your store but also visiting UFCW reps from other Local Unions that have been working along with us during this effort. We are NOT leaving these negotiations until we know we have made every effort to secure the best contract for you. During these uncertain and hectic times, we know it is easy to second guess all that is occurring. We ask that you continue to place your trust and faith in us. We want you to ultimately feel proud and secure of your new contract. Tomorrow, Friday, we are scheduled again to meet for as long as is needed. Stay tuned and informed.
In Solidarity,
Mark
3/10/16
Dear Sisters and Brothers,
While all five New England Presidents where bargaining in Providence, a rally was held at the Stop & Shop in Braintree Massachusetts. Thank you to the hundreds of Union sisters and brothers who converged on this store for a two-hour rally with speakers that included rank and file members from all 5 New England Locals, Massachusetts AFL-CIO President Steve Tolman, Massachusetts State Treasurer Deb Goldberg (granddaughter of the original owner of Stop & Shop Sidney Rabb), UFCW International Executive Vice President Stuart Applebaum as well as Presidents from UFCW locals as far away as New York and New Jersey.
I would like to thank everyone who took the time to attend today's rally and showed support and solidarity for all our sisters and brothers who work for Stop & Shop.
We will be posting a heartfelt video of Juliette Sabo, Local 919 Executive Board Member, Shop Steward and loyal employee of Store #673 Fairfield CT. speaking today. Below are some pictures of the large crowd, Juliette Sabo and Secretary/Treasurer James R Wallace Jr.
Sincerely and Fraternally,
Mark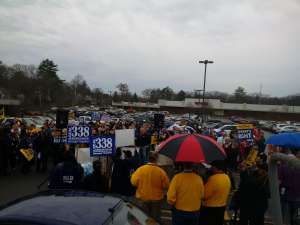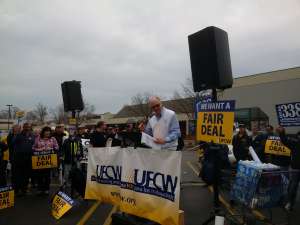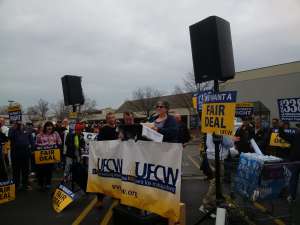 3/9/2016
Good Evening Sisters and Brothers,
We wish to inform you that your Company has indicated the possibility that they MAY release information to you in the stores regarding many of the difficult issues we have been fighting these last two months. We cannot stop your Employer from utilizing this tactic, however, we want to make you aware that it is our belief this strategy is meant to mislead and frustrate your rational thinking. The reason we are opposed to the possible release of information at this date is because we know we are NOT finished securing the fairest deal on your behalf. Any release of this kind is premature and should not be considered a final proposal! We consider these negotiations active and ongoing and have told you in prior updates that we refuse to be rushed into a Bad Contract. Please notify your Union office immediately should you be exposed to any member of store management who may attempt to bargain directly with you. This is a clear violation of labor law. We want to commend all of you for your overwhelming show of trust you have placed in us during these most difficult negotiations. Please know that we are doing everything within our ability to bring home a Union Contract of which you can be proud. Stay Strong! Stay United! Stay Informed!
Sincerely and Fraternally,
Mark A. Espinosa
President
3/3/2016
Dear Sisters and Brothers,
The 5 Local Unions decided that a great deal of study was going to be required given the amount of complex proposals your Employer has presented to us. We intend during this period of study to make sure that we ALL fully understand every item your Company is attempting to negotiate. Our counter proposal must have the same careful consideration. We are not going to allow Stop & Shop to push us into a rush to settle a confusing and potentially harmful contract.
The 5 Local Unions continue to work in FULL unity on your behalf. We have notified your Employer via Federal Mediation that we will be prepared to resume negotiations next week. We cannot stress any stronger the need for you to remain informed and continue the great job you have done spreading the word to your fellow co-workers, customers and your families. Thank you for your trust and commitment in this process.
For the Opportunity of Serving You,
We Thank You and Remain,
Sincerely and Fraternally,
Mark
March 1, 2016
Good Evening Brothers and Sisters,
Our bargaining committee has brought the same strong work ethic to the table that you bring to the stores. We have made ourselves available at the bargaining table around the clock with the expectation that the company would engage with us on the issues.
Some progress has been made. The company, after disappearing all afternoon, finally gave the union a proposal with some modifications late this evening. However, many issues important to the members remain on the table. The proposal the company presented the five local unions is detailed and extremely complicated. This proposal includes complex calculations regarding your health insurance. The five local unions will be meeting among themselves tomorrow to craft a response, and we will be diligent in our responsibility.
We are holding fast to our commitment to you: we will not accept a contract that diminishes your benefits or your future. We continue to work with federal mediators.
Stand with your brothers and sisters in your store. Talk to your customers and ask them to tell Stop & Shop to do the right thing. Our solidarity is our strength.
In solidarity,
Mark A. Espinosa
President
2/28/2016
Dear Sisters and Brothers,
I write to you on the evening of the 28th from Providence. By now, you may have heard that UFCW Local 1445 chose to continue with their meeting this morning, at which time a strike authorization vote was taken and approved by their members. Local 1445 members are NOT ON STRIKE and are still working just as you are.  This in no way should signify that one local has splintered its unity from the coalition of the New England Locals who are bargaining your new contract. Local 1445 faces imminent challenges from the impending merger and acquisition of the Delhaize Company, specifically with the Hannaford Bros. stores in their geographic region.
We can tell you that as of this writing, the Unions and the Company spent time today trying to work through the problems we anticipate which will emerge from their desired creation of a new FT classification. This should not be misunderstood to represent that we have resolved all other outstanding issues. We will be back at the bargaining table first thing tomorrow (Monday) morning. As previously indicated, we have notified your Employer that we will stay here as long as it takes in order to provide you with the best possible contract. Remember, although the expiration date has occurred, you have the right and obligation to report to work and still can expect your local union to continue representing you.
As soon as we are able to finalize the process of reaching an agreement with your Employer, we will notify you for the purpose of making a full presentation in the anticipation of ratifying your new collective bargaining agreement (CBA).
For Your Patience & Trust,
I Thank You,
Mark
2/27/2016
Greetings Sisters and Brothers,
We wanted to first remind you that the meeting scheduled on February 28th has indeed been postponed. We have still not been able to secure a fair proposal suitable for your consideration. We remain here in Providence and have again notified your Company that we will stay here until the job is done.
A collective effort is underway to keep you informed as well as to keep pressure on your Employer. A series of job site leafletting activities are taking place at selective stores throughout New England. Although the contract does not expire until midnight, please know that you should continue with your plans to report to work as scheduled. Your job is secure as we attempt to finalize a proper proposal. All benefits and job conditions will remain in place. We will not allow Stop & Shop to rush this process into a bad contract. They have their designs on how a new contract should look by eroding the current levels to an unacceptable status. We also have to be mindful of how detrimental their proposals will be on the "not yet" hired. Your company has a long-term plan and are trying to set the tone toward severely diminished rates and benefits. We cannot be satisfied with their desire to turn back time on hard-fought gains. Your Employer knows they are engaged in a battle and with the strength of a united membership, they will be forced to reevaluate their strategy.
Continue to stay in touch with us and please know that we are doing everything possible in order to keep the company from ultimately achieving their stated goals. Again, I want to thank you for the honor of being allowed to serve as your bargaining representative. These times are hectic and stressful but I remain confident that all 5 Local Unions will succeed in sending your message back to the company. I look forward to seeing you soon so that we may be able to ratify a fair and suitable contract.
Yours in Unity,
Mark
2/26/2016
Dear Sisters and Brothers,
We stand united in our goal of providing better wages and better benefits to all our incredible members who earn it through their hard work. Your dedication to serving your customers and community, and the support customers and the community have shown our members has sent a powerful message to the Stop & Shop executives. The message is clear – do what is right and honor your hard work!
As a sign of our commitment to negotiating better lives, our bargaining committee, comprised of our five UFCW locals, made the joint decision to stay at the table on Sunday to continue to fight for a fair deal. Our members work hard on Sundays, and so will we. Please stay in touch with your Union through the various methods of communication we provide. Again, we wish to express our understanding of the stress filled times we ALL are enduring. You need to know that we do not want to rush this process which could jeopardize everything we are attempting to achieve.
We want to be very clear. We will not accept a contract that diminishes our member's benefits, their futures, or ignores their hard work that is vital to Stop & Shop's current and future success. More than ever, we are determined to fight for you, our members. We are both proud and grateful that the community and Stop & Shop customers are standing with us.
In Solidarity,
Mark
2/25/2016
Dear Sisters and Brothers,
As of this writing, we can report that negotiations continue and that your Employer has begun to make movement toward achieving a settlement for all. That being said, this message should not be misunderstood to mean that all of our concerns and issues have been resolved. As you should know, a meeting has been scheduled by all 5 Local Unions on February 28th, 2016. At this point, it would not be productive to continue with our intended meeting, and we will need to POSTPONE. Due to several key and crucial issues still unresolved, we have evaluated that it would be more beneficial to keep your Employer bargaining. We intend to keep Stop & Shop here through Sunday and beyond, if necessary. Once we determine that we have exhausted our efforts to obtain your Employer's final and best offer, we will notify you as to when we can present the package for your approval vote.
Please continue to stay in touch with us through the many varieties of communication provided. It is imperative that you all stay connected with us. This is a stressful time and we understand your anxiety. Your Local Union appreciates the trust you place in us and are honored to be your representative.
Thank You
Sincerely and Fraternally,
Mark A. Espinosa
President
Sunday's Contract Ratification/Strike Vote Meeting Postponed
While the company has continued to advance unsatisfactory contract proposals, there has been some movement in negotiations. In a show of good faith, we are temporarily suspending our vote to give Stop & Shop the opportunity to put together a fair deal that rewards our hard work. We will continue to meet with the company in Providence, Rhode Island on Saturday and Sunday. We are postponing our vote and will reschedule the meeting as soon as we have a settlement for you to vote on.
2/24/2016
Good Morning Brothers and Sisters,
We continue to bargain despite facing immense challenges posed by your Employer. As we have reported, these negotiations have thus far, not shown much of a willingness by Stop& Shop to change their position of DEMANDING unnecessary " give backs". Your Employer has continued to demonstrate that they are NOT willing to acknowledge your hard work as they look to reduce and/or remove many hard fought benefits. We find this type of bargaining disrespectful to you the Employee/Union Member. We continue to remind your Employer that this is NOT the way to treat their Loyal Employees! We will stay here in Providence as long as it takes to secure a settlement offer which is worthy of your consideration. As you all should know, a meeting has been called on Feb.28th @ 10a.m. Stay tuned as we approach this date. We will not attempt a ratification vote with you UNLESS we determine that we have gotten your Employer's Final & Best offer! We are honored to be YOUR representative & thank you for the trust you place in us.
Sincerely and Fraternally,
Mark Espinosa
President
Greetings Sisters and Brothers,
We are in the process of concluding our 3rd negotiations session this week at the bargaining table. Please be aware that we can report that some progress has occurred relative to the "language" issues we have been dealing with. The Employer has submitted as of yesterday a partial economic package to all 5 Locals. I can tell you, that in all my 30-year career, this is by far the most devastating set of proposals ever submitted. Without being able to go into great detail via this writing, many important benefits such as Health & Welfare/Pension are being threatened! It would appear to us that Stop & Shop is seeking great concessions from you during a time when they most definitely do not NEED to demand such outrageous desires. At stake, Union benefits in general. Your Company thinks it appropriate to expect any new hire to work Sundays and Holidays at straight time! Your Company thinks that 4 weeks' vacation is sufficient. Your Company thinks that new hires should only receive premium pay on 6 major Holidays with no additional Personal Holidays. There are additional concerns we have relative to the initial proposals this far.
The bigger picture we are seeing is that your Employer appears to have desires on gutting your Union Contract. Your Employer is NOT recognizing your hard work which reflects directly on its healthy profits. It would appear to all of us at these negotiations that Stop & Shop is acting as a company teetering on bankruptcy rather than the flourishing leader of the grocery industry of which they enjoy a lucrative standing. None of what your Company is seeking is needed! These proposals are generated from Corporate Greed. It is also our belief that Stop & Shop's parent group Ahold, while undertaking a huge acquisition of Delhaize stores, is merely trying to set the tone to get the 240 stores covered by these contracts more in line with the non-union stores of Delhaize.
By now you all should have seen various postings of our upcoming meeting on February 28th 2016. The agenda is set to: Accept or Reject your Employer's proposal. If the vote is to reject, then a Strike Vote will be taken. We are hoping that we are able to secure a proposal settlement worthy of your acceptance. Please know that we do not enjoy putting additional stress on you and your families. We do not take lightly the issue of a strike. We are working diligently in unison with all the New England Locals in order to avoid any such unpleasant actions. These are the "tools" we have in order to ensure your Employer of our desire to remain Strong and United. We know that past practice has proven that when we "Act Like A Union" your Employer will respect you more.
Stay tuned to our updates, talk with your Business Agent, or call the Union office. Should the need arise to cancel our scheduled meeting on February 28th due to the lack of a proper settlement offer, we will do the best we can to give you as much advance notice as possible.
For The Opportunity Of Serving You
I Am
Sincerely and Fraternally,
Mark A. Espinosa
President
2/10/16
Good Evening Brothers and Sisters,
We wanted to provide you with a current status report from the "bargaining table." Upon our conclusion of today's session, it can be said that a substantial amount of progress has been achieved. Both sides have agreed to certain conditions thereby allowing all 5 Local Unions to "close" many of the formerly outstanding issues. This is not to say that every "language" article has reached agreement. We can report that your Employer fully understands how serious we feel these articles are. Due to this understanding, we were not only able to reject unwanted proposals from the Company but were able to successfully secure agreements on topics of interest to our members. It is our expectation that the next time we meet, the Locals will finally be presented with an economic package for consideration. Once this has been presented, we are sure that a great deal of work will be required in order for us to bring back the type of settlement you are worthy of receiving.
Stay Informed and Stay In Touch,
Sincerely and Fraternally,
Mark A. Espinosa
President
2/9/16
Brothers and Sisters,
As of this writing, we wish to notify you that negotiations have resumed. After a small break in schedule, all 5 Locals have had an opportunity to review any and all outstanding "Language" issues which remain open. As previously reported, proposals from both sides include but are not limited to; scheduling, vacations, sick time, promotions, and travel pay. If we are able to close the "open" proposals by Wednesday 2/10/16, we believe we will be able to begin to deal with the major economic issues such as; Wages, Health & Welfare and Pension.
Again, keep in mind that there are 5 Local Unions here negotiating on behalf of you and over 40,000 of your fellow employees. The process is lengthy and at times very frustrating, but every piece of information exchanged by both sides is subject to intense scrutiny to ensure that a fair and proper settlement is achieved. We are honored to be Your Representatives and please do not hesitate to contact us should you have any questions and/or concerns. Please encourage your co-workers to visit our website @ www.ufcw919.org to download your Local Unions free phone app to stay up to date with the latest information.
Sincerely & Fraternally,
Mark A. Espinosa
President
1/28/2016
Brothers and Sisters,
As Negotiations conclude for this week, we can report that the 5 New England Locals remain together and strong. We are working as a cohesive unit making sure that "global" proposals remain on the table and that Stop & Shop understands we are serious through solidarity. Some movement has occurred, but we ALL still have several issues which require attention. Some of the outstanding articles include but not limited to: Transfers, Promotions, Grievance and Arbitration. Your Employer has agreed to continuing the process of negotiating the "non-economic" language in order to conclude before presenting the Local Unions any "economic" proposals.
We are hopeful that by the next time we meet, Stop & Shop will present the answers to the financial information All Locals have formally requested. Until we receive this information, we will not be able to accurately assess the Company's fiscal standing. In order for us to determine the validity of any and all economic proposals presented by the employer, a true understanding of Stop & Shop's financial health must be understood. The initial finding of the 5 Local Unions is that the Employer has stated that 60 of the 240 stores impacted by these negotiations are losing money. Determining the accuracy of these kinds of statements is crucial when we begin bargaining for wages and benefits.
As always, stay informed and continue to do the good job you do. Please do not hesitate to contact the Union Office and/or Business Agents along with your Shop Steward should you have any questions or concerns. Rumors and speculation only fuel misunderstanding and confusion. Help to protect a stable work environment. Stay informed and remain strong. This is a long process and patience is required.
We will keep you informed and updated as any situation is warranted.
Sincerely and Fraternally,
Mark A. Espinosa
President
BREAKING NEWS!!
1/21/2016
Brothers and Sisters,
In an ongoing effort to keep you informed; we have "breaking news". The 5 New England Locals have just been notified by Stop & Shop Negotiators that the Company will begin placing advertisements for temporary help, otherwise known as "scabs". While we all know this is a typical reaction during each bargaining session, we are surprised at the company's timing. It is our belief that taking this action is pre-mature, unnecessary and highly insulting. We are attempting to bargain a new contract in good faith and have not demonstrated anything contrary to your employer. We will respond accordingly with your assistance. Please remain calm and place your faith in our Unity. This is merely a tactic the company is using. Their intended outcome will not be achieved. This action will only make us stronger. Through solidarity we can show Stop & Shop that their decision to advertise is money wasted.
For The Opportunity Of Serving You
I Am
Sincerely and Fraternally,
Mark A. Espinosa
President
1/21/2016
Good Afternoon Sisters and Brothers,
As this week comes to a close, so does another week of negotiations with Stop & Shop. We can report that much work has been accomplished with the non-economic language proposals exchanged. Please understand that this process takes time and patience. Careful attention must be given to any contract language proposals in order to achieve the desired positive effect on the membership. Every three years, your Union leadership has the right to open the contract to attempt changes to improve your working conditions. Your Employer is also trying to achieve change. As I always say, our proposals simply require the company to say "Yes", if only it was that easy. Your thoughtful suggestions in the questionnaires and discussions in the stores with Business Agents aid us in developing ideas for change.
All five Locals will resume negotiations next week. We will be sure to update you then. Time remains on our side. Be proud to be a Union Member! Continue to serve your customers with that pride! Contact your Business Agent with any questions or concerns you may have. Our Unity is our Strength!
Mark A. Espinosa
President
1/12/2016
Dear Members,
Today, the five Local Unions have completed two more days of negotiating sessions with your Employer.  The C.E.O. of Stop & Shop gave the negotiating committees a "state of affairs of the company" presentation, highlighting the successes and challenges they face operating in New England.  Items discussed included market share, overall cost of operations and the competition you deal with in your respective areas.  Your Employer then respectfully listened and responded to rank and file members from all five locals express many of their concerns in the stores on your behalf. Proposals from both parties were exchanged.  At this time, only "operational" language is being discussed.
We are scheduled to resume negotiations next week in anticipation of further working through contract language together in good faith.  We will update you next week.  Continue doing a good job for your Employer and loyal customers and stay informed.  Encourage your co-workers to download our free Local 919 phone App and visit our website so that all can stay informed.
Sincerely and Fraternally,
Mark A. Espinosa
President
1/6/2016
Good Evening Brothers and Sisters,
We are pleased to report that on January 5, 2016 and January 6, 2016, the five New
England Locals began bargaining with Stop & Shop on a new successor agreement.
Both sides exchanged proposals on non-economic issues that they are interested in
addressing during this bargaining session.
It is still very early in the process and neither side has committed to any changes to this
point.
Each Local has committed, along with the Company, in securing 15 additional dates
between now and the expiration of this contract on February 27, 2016 in an attempt to
settle this contract.
If the past has been any indication, this is often a long and arduous process. So we ask
that you remain calm and follow the direction of your Local Leadership. Please continue
to check your local's website as well as social media sites for updates on future
negotiations.
Remember, our unity is our strength, and our strength is our unity.
In Solidarity,
Locals 328, 371, 919, 1445, and 1459.
12/16/2015
Dear Members,
This writing is to inform you that the negotiations with Stop & Shop Supermarket Co. has officially begun on Dec 15th, 2015. We wish to again thank those of you who filled out the Contract Questionnaires which help us better prepare legitimate proposals. Local 919 is working with the other New England Locals which are; Locals 328, 371, 1459 & 1445. We have secured numerous dates throughout January and February so that a great deal of anticipated work can be accomplished. Please remember that we always will attempt to improve every element of working conditions and benefits, however, if we are successful in MAINTAINING previously hard fought gains that in itself is a VICTORY! Contract Negotiations are never easy and both sides set out to accomplish their own Agendas but if a delicate balance is achieved then THAT also can be viewed a success. As this process continues on please stay in touch with your Local Union. Talk with your Shop Steward or your Union Business Agent. Call the Union Office or visit us on this site. Additionally, we encourage you to sign up for "push notifications" on the newly created App. On behalf of the Staff and Officers I want to wish you all a very HEALTHY & HAPPY HOLIDAY SEASON!  Thank you for allowing us to be of service to you.
Mark
11/30/2015
Greetings Sisters and Brothers of Stop and Shop Supermarket Co.,
We Trust that you have enjoyed a Safe and Happy Thanksgiving. We wish to notify you that Contract Negotiations with your employer are scheduled to commence on Tuesday, December 15th in Providence RI. As with our prior negotiations with Stop and Shop, we will be unified strongly at the bargaining table with UFCW Locals 371, 1445, 1459, and 328. We will keep you posted as negotiations progress. We also would like to thank those of you who took the time to fill out and return the contract questionnaires to the Union Office. These questionnaires are indeed read by your leadership, and are very useful to us as we formulate proposals to your employer. Please do not hesitate to direct any question or concerns you may have to this office or your Business Agent.
In Anticipation of Successful Bargaining,
We Remain,
Sincerely and Fraternally,
Mark A. Espinosa
President
Please stay tuned for 2015 Stop and Shop Negotiations Updates as they become available.