December 4, 2018
WASHINGTON, D.C. – Marc Perrone, president of the United Food and Commercial Workers International Union (UFCW), issued the following statement regarding a report by the Wall Street Journal that Amazon is testing its Amazon Go technology in bigger stores with the possibility of introducing it into Whole Foods stores across the United States, potentially impacting thousands of workers.
"Amazon's new push to aggressively expand their cashierless technology, likely to Whole Foods stores across the country, poses an existential threat to thousands of American jobs and our economy.
"Grocery stores already face pressure to use cashierless technology to stay competitive. Amazon ramping up their push to expand this technology and bring it to Whole Foods stores around the country would likely lead to smaller grocery chains being squeezed out of business, increased prices for consumers with fewer options, lower wages for workers, and potentially millions of lost jobs as stores are forced to further reduce costs.
"Our nation's leaders must realize now that Amazon's ruthless business model will lead to massive job losses that could cripple our entire economy. We must stand up and fight for the good-paying jobs our families and communities count on, before it's too late."
###
The UFCW is the largest private sector union in the United States, representing 1.3 million professionals and their families in grocery stores, meatpacking, food processing, retail shops and other industries.
Our members help put food on our nation's tables and serve customers in all 50 states, Canada and Puerto Rico. Learn more about the UFCW at www.ufcw.org.
NFL Players Thank UFCW Members for Making Footballs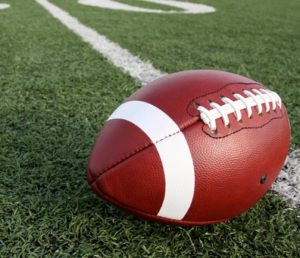 This year, the National Football League Players Association (NFLPA) celebrated Labor Day by recognizing UFCW Local 1546 members at the Horween Leather Company in Chicago and their contributions to professional football. Retired NFL player Israel Idonije of the Chicago Bears visited the company to thank members of UFCW Local 1546 for their hard work and support.
The leather for every single NFL football is crafted in by members of UFCW Local 1546 at the Horween Leather Company. The hard-working men and women of Horween have been making the leather for every official NFL ball since the early 1940s. Almost every leather football you see — Wilson, Spalding, Nike, Rawlings, Adidas — began its journey to the field in the hands of a UFCW Local 1546 member.
The company takes pride in the talented workers whose skills are evident in the quality of the final product. Despite the leather's sheen, which can give the appearance of being slippery, the proprietary "tanned in tack" finish actually means the ball gets stickier after being buffed a few times, making it easier to grip. A 1,000-ton press with special German-made embossing plates gives the leather its distinctive pebbling.
UFCW Local 1546 shop steward Juan Torres gave Idonije a tour of the tannery and explained the process of crafting the leather for the NFL's footballs. The two union members discovered shared values that drive their work on the field and in the tannery.
"You talk about a brotherhood, a sisterhood – a union family: it's the commitment of people working together to support one another. It's really special," said Idonije. "When you look at the detail and the craftsmanship that goes into such an important part of the game, and right through to the game itself, and the labor, the work, the effort, the energy – that's what's so special about both groups working together."
You can view the NFLPA's video of Idonije's visit with members of UFCW Local 1546 at the Horween Leather Company here.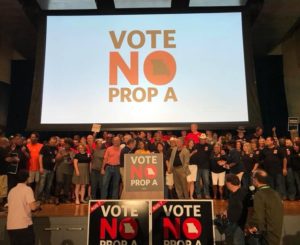 After Missouri, UFCW Prepares for More Victories This Election Season
For our union, the defeat of work for less in Missouri is just the beginning of our 2018 efforts to secure meaningful electoral victories for hard-working families. Leading up to Election Day in November, we will be coordinating with UFCW locals across 26 states to make it easier for our members and their families to vote for the issues that matter to them. We will also be having more than 300 Lost-Timers deployed across the nation to visit worksites, knock on doors, and encourage entire communities to stand up and shape their futures.
What happened last week in Missouri should be motivating for all of us. Missouri became the 28th work for less state in February of 2017 and instead of accepting a tough defeat, UFCW locals in Missouri dusted themselves off and fought back. They immediately partnered with other labor unions and community allies to collect signatures and place a constitutional amendment on the 2018 ballot to reverse the law. Then they got to work canvassing, phone calling and visiting worksites to show hard-working families everywhere why stopping work for less was the right thing for Missouri's future.
In the final weeks of this get out the vote effort, UFCW locals poured in from across the country to help with the final canvassing push and knocked on 52,386 doors. Newer technologies like Hustle were also deployed in partnership with the International to ensure that every UFCW member in Missouri understood the historic stakes of this election. In total, we were able to reach out to 2,780 members through Hustle to share information about how and when to vote.
These incredible efforts were a rousing success and voters rejected work for less Proposition A by a 2 to 1 margin on August 7.
"Defeating Prop A in Missouri is a clear sign that everyone, whether they are in a union or not, understands that we have to fight back against corporate greed," said UFCW Local 655 President David Cook. "Hard-working middle class families deserve good wages and fair benefits, and I believe the overwhelming win in Missouri is proof that a message focused on what workers have earned resonates with a broad coalition of people."
Rest assured, we will bring that message wherever we can this fall. The UFCW is committed to having the voices of our union family heard loud and clear in every election. For more information about the UFCW's plans this election year or to get involved, contact the Legislative and Political Action Department at (202)-223-3111.
Announcing the UFCW Charity Foundation Scholarship (Click the picture for more details)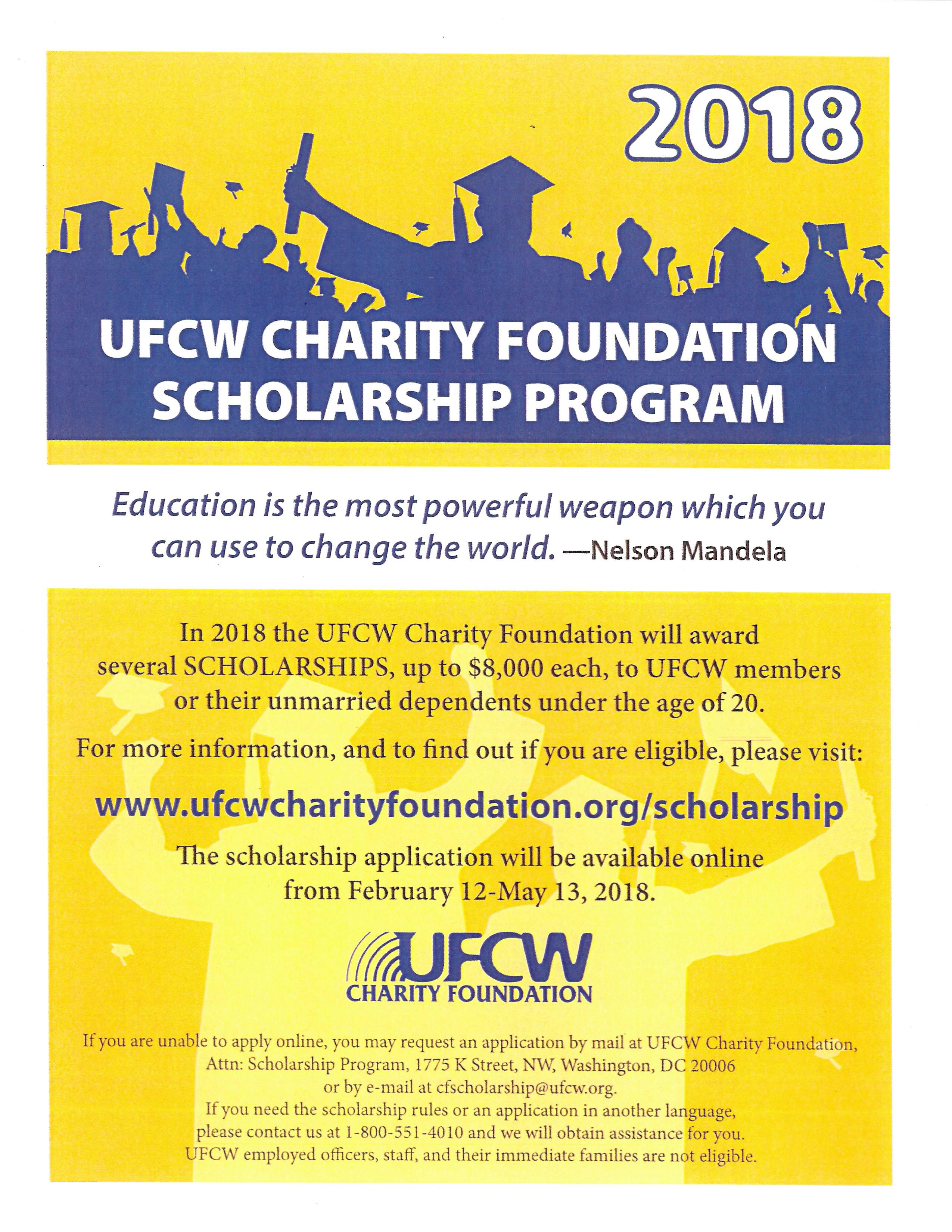 Because of your UFCW membership, you and your family members can earn an associate degree online from a public, accredited community college – with no out-of-pocket costs to you. The process is simple and can save you thousands of dollars.
Fall Registration Enrollment ends August 18. Will you be enrolled? Our union family is here to help you build your better life. Visit http://www.ufcw.org/college/ for details, or click in the picture below for more information and how to enroll!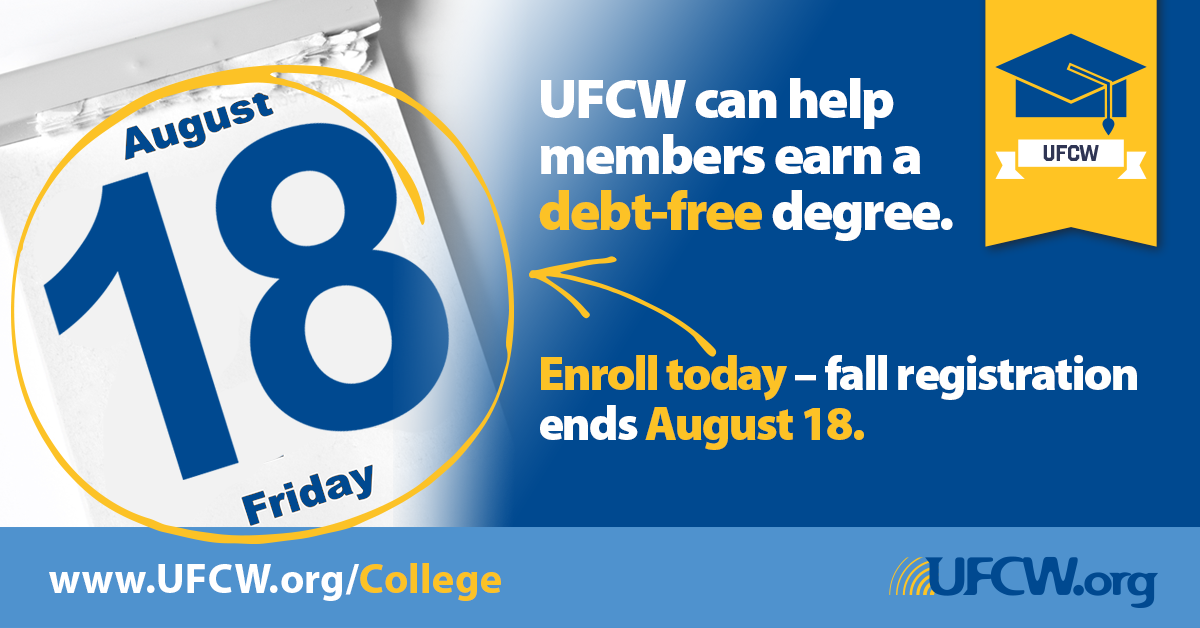 The UFCW Free College Benefit ensures that UFCW members and their families do not have to pay out of pocket for any tuition, fees or e-books at Eastern Gateway Community College—resulting in cost savings of thousands of dollars!


Tell Volkswagen to End Its Anti-Union Campaign at Its Chattanooga Plant
The petition to Volkswagen CEO Matthias Müller says the following:
End union-busting and abuse of workers in Chattanooga, Tennessee, USA.
Sign the Petition Immediately ›
Working people from the Volkswagen plant in Chattanooga, Tennessee, will be headed to Germany for the company's shareholder meeting this week.
They'll have one simple message: Respect our right to bargain together for a better workplace.
Skilled trades workers voted in 2015 to come together in a union, so they could make a good living and support their families. But Volkswagen executives have refused to sit down and negotiate with workers since the vote, even ignoring a National Labor Relations Board ruling last year that ordered the company to the negotiating table.
Sign the petition immediately to demand Volkswagen stop its anti-union campaign and we'll make sure to include your signature in a petition at the Volkswagen shareholder meeting.
Working people at the Chattanooga plant have been fighting nasty anti-union tactics for years now. In 2014, Tennessee politicians and out-of-state, right-wing interests ran a dirty campaign to get workers at the plant to vote against forming a union. Tennessee lawmakers did everything they could to silence the voice of workers, even going so far as to threaten to take away economic incentives from Volkswagen if they allowed people at the plant to join together in a union.
Volkswagen has continued with these deceitful tactics. The company's refusal to negotiate with skilled trades workers is not only a reversal of its pre-election statements, but violates its own Declaration on Social Rights and Industrial Relationships.
But working people at the plant aren't giving up. They're taking a stand this week, and they need your support.
Add your name immediately to the petition to tell Volkswagen to end its deplorable anti-union campaign at its Chattanooga, Tennessee, plant.
In Solidarity,
Tefere
——————
Tefere Gebre
Executive Vice President, AFL-CIO
The UFCW's Statement on the Election of Donald Trump
Washington, D.C. – Marc Perrone, International President of the United Food and Commercial Workers (UFCW), the largest private sector union in America, released the following statement about Donald Trump being elected President of the United States.
"As the newly elected President, Donald Trump has promised to be a president for all Americans. We can only hope this means we'll be able to leave the divisive and damaging rhetoric of the campaign behind and begin working on real solutions to make life better for all working and middle class Americans. Make no mistake, the nation and the world will be watching."
###
The UFCW is the largest private sector union in the United States, representing 1.3 million professionals and their families in grocery stores, meatpacking, food processing, retail shops and other industries. Our members help put food on our nation's tables and serve customers in all 50 states, Canada and Puerto Rico.
Learn more about the UFCW www.ufcw.org
'Stronger Together' is more than a slogan for Stop & Shop workers in New England. In an unprecedented display of solidarity, 35,000 Stop & Shop workers in New England, represented by five UFCW locals, have come together to strengthen their position at the bargaining table. Bargaining committees from UFCW Locals 328, 371, 919, 1445 and 1459 have stayed at the table for two months fighting for a fair deal for the hard-working men and women that make the company successful.
Local unions are holding joint actions in the stores to educate customers and build support for protecting good jobs at Stop & Shop. While the company draws out the bargaining process, members are building a contract campaign into a movement that has brought customers, workers, community leaders, union members, and even four U.S. Senators into the fight for good jobs in the grocery industry.
Over the past two weeks, the five New England locals have held rallies across the region, drawing out hundreds of workers and supporters to call on Stop & Shop to provide a fair deal and a better life for its employees. More than 20 UFCW locals gathered for the kick-off rally in Braintree, Mass., a few miles from the company's headquarters.
"As a former member of UFCW and of the original Stop and Shop family, I stand, in solidarity, to support the rights of the worker's to the good pay and good benefits they deserve," said Deb Goldberg, treasurer of Massachusetts, whose family founded Stop & Shop in 1892.
The crowd that turned out for a rally in Quincy, Mass., tripled organizers' expectations, as workers brought family members and customers and community members joined in to call on Stop & Shop to provide a fair deal and better life for its employees.
The following day, neither a rain storm nor Boston's famous St. Patrick's Day celebrations could keep supporters away from a rally in Dorchester. Hundreds turned out to make their voices heard on the same day that the company returned to the bargaining table to resume negotiations. When workers were asked to take their rally off of store property, the Boston Police helped close down a lane of traffic to make room for crowds that overflowed the sidewalk.
U.S. Senator Edward J. Markey put the coordinated effort of the New England Stop & Shop workers to stand strong for a fair contract in perspective: "As the income gap in our country continues to grow and the middle class gets hollowed out, it is imperative that our labor unions take this fight to every negotiation where the potential for economic injustice is a real possibility."
U.S. Senators Christopher Murphy and Richard Blumenthal joined hundreds of Connecticut Stop & Shop workers and community supporters at rallies in Norwalk and East Hartford, while Senator Elizabeth Warren sent a letter of support to Massachusetts workers who held a final rally in Holyoke.
"When I started working here, Stop & Shop was my path to the American Dream – a house, a future for my family. But with the company's current proposals, that dream will be out of reach for my coworkers," said Barbara Begley, who has worked for Stop & Shop for 33 years. "We take great pride in the work we do to serve our customers and communities. Stop & Shop should do what is right and accept a fair deal."
Supported by their customers, the hard-working men and women at Stop & Shop are standing together and calling on the company to stop its threatened cuts to benefits, offer fair wages, and do what is right for the community.
UFCW President Perrone Highlights Historic Announcement as Part of UFCW's Commitment to Building a Diverse and Strong Union Family
PHOENIX, AZ — Today, the United Food & Commercial Workers (UFCW) International Executive Board elected Esther López as the new International Secretary-Treasurer. The historic announcement reflects the commitment by the UFCW, as the largest private sector union with 1.3 million members, to building a diverse and strong union family.
Esther López is a leading champion of hard-working men and women, and has worked tirelessly for decades on behalf of immigrants and all families seeking a better life. López has helped lead the UFCW's groundbreaking outreach effort to the Latino and immigrant communities, and is recognized as a national leader in the areas of immigration reform, as well as civil, human, and labor rights.
"To become a better and stronger union family, I have been absolutely committed to building a diverse and inclusive union. It is why I'm so proud to announce that the UFCW International Executive Board elected Esther López as our union family's new International Secretary-Treasurer. Esther is a tireless advocate for the rights of all hard-working men and women. Esther believes, as I do, that our nation's diversity is our strength, that we must grow our union family, and that by working together we will provide a better life to all our incredible members," said Marc Perrone, International President of the United Food & Commercial Workers Union.
In accepting her position, López said:
"I am truly honored to be elected as the International Secretary-Treasurer. This union and our members are my family. Doing everything I can to improve the lives of hard-working families, and provide them with the better life they've earned, has been my life's mission. It is why the UFCW's commitment to building a stronger and more diverse union family is so important. It inspires me to never stop fighting to better the lives of our members, and those who deserve to be our members. Under Marc's leadership, and as part of this incredible UFCW team, I'm more optimistic than ever about the future of our great union family."
Throughout her career, López has been a champion of the rights of all workers – regardless of where they come from or where they were born. To help provide hope to immigrant workers, López launched a groundbreaking program to ensure eligible UFCW members were first in line to apply for citizenship. Prior to that, she spearheaded the Union Citizenship Action Network, also known as UCAN, to help UFCW members become naturalized and get on the path to citizenship. López was the lead staff person on the UFCW Commission on ICE Enforcement that highlighted civil rights abuses in the 2006 Swift raids. All along, López has never lost focus on the broader goal of giving aspiring Americans the chance to become citizens and ensuring all workers and their families are protected from exploitation.
López began with the UFCW in November 2006 when she was hired as Director of the Civil Rights and Community Action Department. In that role, she has helped put the UFCW on the front lines of the most crucial civil rights battles of our time—fighting back against voter suppression, working to end exploitation of refugees from countries like Burma, Sudan and Somalia, creating more opportunities for women, and expanding LGBT equality.
Prior to her career at the UFCW, López played an active role in improving labor conditions within the state of Illinois, serving as Deputy Chief of Staff for Labor, as well as in the governor's cabinet as Director of the Illinois Department of Labor.
UFCW President Perrone Joins Leaders in Calling on the USTR to End Secrecy Surrounding TTIP Negotiations
On a conference call on October 23, Rep. Lloyd Doggett (TX); Randi Weingarten, President of the American Federation of Teachers (AFT); Lorette Picciano, Executive Director of the Rural Coalition and Thea Lee, AFL-CIO Deputy Chief of Staff called on the USTR to make the current discussions of the Trans-Atlantic Trade and Investment Partnership (TTIP) the open and democratic process that the American public deserves.The advocates for transparency in trade highlighted a

letter

sent to USTR Michael Froman by more than 75 U.S.-based groups and several academics asking the USTR to increase transparency in the trade, investment, and governance talks with the European Union and to immediately release its own proposals."If the EU is willing to publish its textual proposals, there is no reason why the U.S. cannot immediately release its own textual proposals as well," the letter said. "This significant change from present practice would be a major step toward the release of composite draft texts after each round. It would also help produce trade negotiations guided by the principles of democracy, transparency, and political accountability."
Numerous organizations and academics from across the political spectrum, united by interest in good governance and transparency, weighed in on this debate. All agree trade negotiations cannot continue to operate in the current manner if they are to create better trade policies with fair rules beneficial to all rather than a few.
"The U.S. must show its commitment to creating better trade deals and better lives by immediately releasing their TTIP proposals. Trade agreements negotiated in secret have had a devastating impact upon our families, our jobs, and this nation. Hard-working men and women simply cannot afford anything less than complete transparency when it comes to global trade."
Marc Perrone, President, United Food and Commercial Workers Union
"Working families don't like it when the rules of trade are negotiated in secret rooms we can't enter. The US and EU can avoid some of the problems the TPP has by bringing TTIP into the light and allowing hardworking Americans a chance to advocate for rules fair to all of us, not just to corporate elites—we call on USTR to make this happen."
Celeste Drake, Trade & Globalization Policy Specialist, AFL-CIO
"Concerned communities around the world are demanding transparency for a deal that could affect access to clean energy, clean air and water, and climate action. We saw a quarter of a million people protest the TTIP in Berlin, and more and more of the Sierra Club's 2.4 million members and supporters are joining in the call for a new, transparent model of trade that puts people before polluter profits."
Ilana Solomon, Director of Sierra Club's Responsible Trade Program
"Many of our organizations have been advocating for specific changes to the business as usual approach to free trade since the inception of these talks. Simply listening to and receiving comments isn't anywhere near enough. USTR should publish the TTIP texts now."
Karen Hansen-Kuhn, Director of International Strategies, Institute for Agriculture and Trade Policy
"Complex trade agreements like TTIP have far reaching consequences for science-based policies. We need real access to the details to understand and be fully engaged in the process of deciding if the agreement and its provisions are truly in the public interest."
Andrew Rosenberg, Director, Center for Science and Democracy at the Union of Concerned Scientists
"Trade agreements are too consequential for the public, and too complex, to exclude everyone but a handful of bureaucrats and corporate lobbyists from having access to the details during the negotiations. It is insulting beyond belief that policy makers think there is any justification for blocking public access to a text that is already shared with both negotiating parties and hundreds of lobbyists representing big corporations."
James Love, Director, Knowledge Ecology International
In the News, Retail, Retail Food, UFCW Industries, UFCW Values
In an op-ed posted today in The Hill , UFCW International President Marc Perrone writes that it's "Time to change our reliance on low-wage, part-time jobs."
He continues, saying that in today's economy, far too many working families are being forced to work multiple, low-wage jobs in order to make ends meet, thanks to employers cutting hours and not paying a living wage. Specifically, he says that Walmart and its business model are driving this trend:
"Take Walmart, the largest private employer in the country, where tens of thousands workers rely on taxpayer-funded programs like food stamps just to survive.
We must not expect better from companies like Walmart; we must demand it.
Already we've seen workers from across the country join together to fight and take back control of their lives. Low-wage, part-time workers across the retail and the service industries are standing up for their right to higher wages, better benefits, and a voice on the job.
The simple fact is that incredibly dedicated workers, like Fermín Rodriguez of Los Angeles, California, have been at the forefront of the fight for better wages and working conditions.
Rodriguez works at the El Super grocery chain that has chosen to follow Walmart's poor wage business model.
Instead of acknowledging their responsibility to workers like Rodriguez, El Super went as far as to illegally fire him for speaking out for workplace changes that would improve the lives of his family and coworkers. Even in 2015, it took a rare court order demanding the company immediately remedy their unlawful treatment to get his job back.
The case of Rodriguez is sadly not new or unique.
Yesterday, at the White House's Summit on Worker Voice, the struggles of Rodriguez and many other hard-working men and women were heard by the administration, employers, and advocates. It's time America heard the real life struggles of those across the retail and other industries.
But talk will not be enough. We must take action."
For Immediate Release: September 26, 2015Contact: press@ufcw.org
Statement on Haggen Bankruptcy Developments
"Haggen Has a Responsibility to Do What Is Right"
Washington, D.C. – The United Food and Commercial Workers (UFCW) International Union released the following statement regarding the Haggen bankruptcy as it relates to the motion filed to close 100 stores, as well as the recent approval of Albertson's to hire back Haggen employees.
"Across our communities, the hard-working men and women of Haggen, their families have all been experiencing untold frustration and concern during these past few weeks as the Haggen bankruptcy continues to develop. From the start, we have made it clear to Haggen that they have a responsibility to do what is right. Unfortunately, it is clear that Haggen seems intent on pursuing a course of action that is wrong for the community, its customers, and its employees.
"Even though Haggen has stated in its court filings and to the public that that it is closing 100 additional stores because there are no interested buyers, we believe that is simply not true. In fact, there is no evidence that Haggen has conducted a real and organized sales process, or taken any good-faith steps to pursue buyers to operate these stores. Haggen's failure to do so is not only irresponsible, it is unacceptable.
"Even in the face of Haggen's repeated missteps and mistakes, our UFCW members have stood together and continue to prove their incredible worth. As we continue to compel Haggen to live up to its responsibilities, we are pleased that the FTC has granted Albertsons approval to hire back Haggen workers. This goes into effect immediately and provides the opportunity for laid-off Haggen workers to work at Albertsons stores. Our next steps will be working closely with our members to provide assistance and resources for them to secure these good union jobs.
"With respect to the Haggen bankruptcy proceedings, we are absolutely committed to taking every legal step possible to protect these jobs and the community. We will also do everything in our power to make sure that these stores are sold to responsible employers who respect our hard-working men and women. Make no mistake, we will fight as hard as we can to protect what these workers have earned and deserve."
###
Join the United Food and Commercial Workers International Union (UFCW) online at www.ufcw.org
We are 1.3 million families standing together to build an economy that every hard-working family deserves.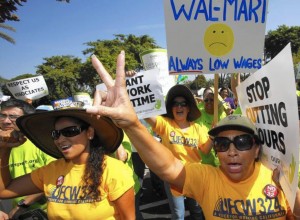 On September 10, Walmart workers, with the help of the UFCW, Making Change at Walmart, and OUR Walmart, announced at a press conference that they had filed a second charge against Walmart with the National Labor Relations Board (NLRB) regarding the retaliatory closing of the Pico Rivera, Calif., Walmart store. In the charge, workers allege that they were discriminated against in the transfer process due to their participation in protests standing up for better wages, hours and work conditions.
"When Walmart closed our store, I knew it was because we had been leading the nationwide movement for $15 an hour and access to full-time, consistent hours," said Jenny Mills, a nine-year Walmart worker, who was listed on the charge. "Seeing who they did and did not transfer just reaffirmed that. Walmart intentionally refused to transfer those of us who have been the most vocal in standing up for fair wages and hours. That's simply not just a coincidence."
The workers were joined at the conference by community leaders, clergy and city residents calling for the reinstatement of all 530 laid off Pico Rivera Walmart workers. Despite the fact that there are 45 Walmart stores within 20 miles of the closed Pico Rivera store, Walmart has failed to transfer the most vocal workers in the fight for $15 an hour and access to consistent, full-time hours since the closure back in April.
The workers' second charge comes as the first charge, alleging that Walmart closed five stores nationwide as an act of retaliation, is under investigation by the NLRB. On April 13th, the company abruptly closed stores with just hours' notice, including the Pico Rivera Walmart store, which was among the most vocal and symbolically important stores in the movement for better wages and hours.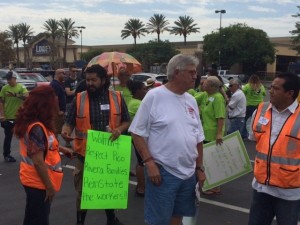 The store has been a hotbed for worker activism. A powerful group of primarily Latina women led the first Walmart strikes there prior to Black Friday in 2012. They held a sit-down strike and civil disobedience there last fall and have also been vocal in the fight for $15 an hour and access to full-time, consistent schedules. Based on the initial charge on April 20th, the NLRB has compelled Walmart to provide evidence that its store closings were actually related to "plumbing problems" as it initially claimed. Workers are hopeful that the initial charge will result in their reinstatement with back pay under what labor law refers to as a "10j injunction" while the Board continues to pursue the charge.
"Punishing workers by denying them a livelihood in this fashion isn't only legally wrong; it's morally wrong," said Rabbi Jonathan Klein, executive director of Clergy and Laity United for Economic Justice. "Brave workers entitled to a better life for their families now face spirit- and body-crushing stress because of Walmart's unconscionable choice. We cannot let such injustices prevail. We must hear the voices of those fighting for what is right."