Jason K. Frechette Proudly accepts an award from UFCW International President Marc Perone and Region 1 Director Tom Clarke for the MOST Local 919 Member Sign-up in the Active Ballot Club!  Thanks You Jason and thanks to the special members of This Union that support our efforts!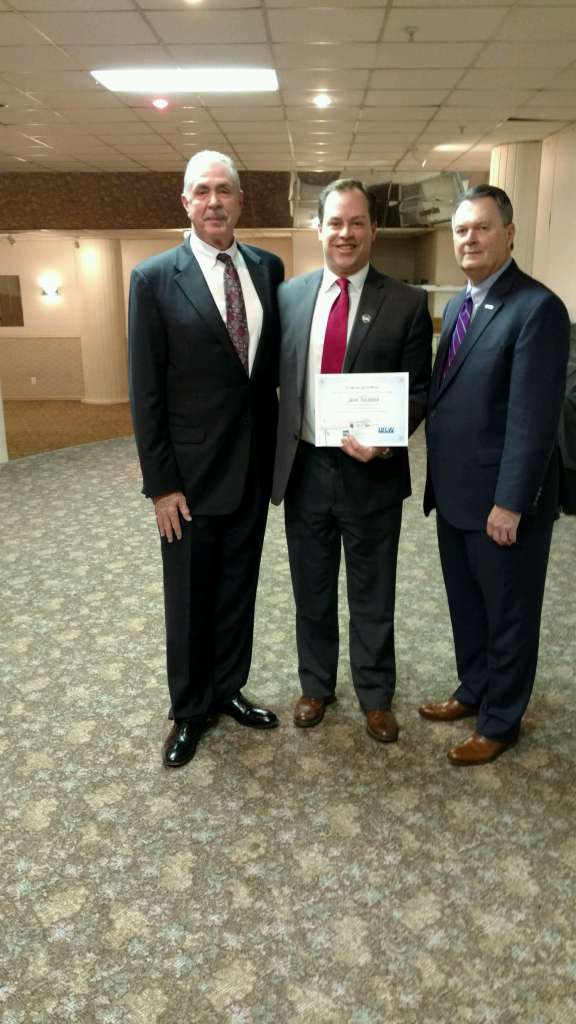 UFCW Local 919 Activists send a strong message to Christopher Zane's today, telling him to do the right thing! Negotiate in Good Faith with his workers and Local 919!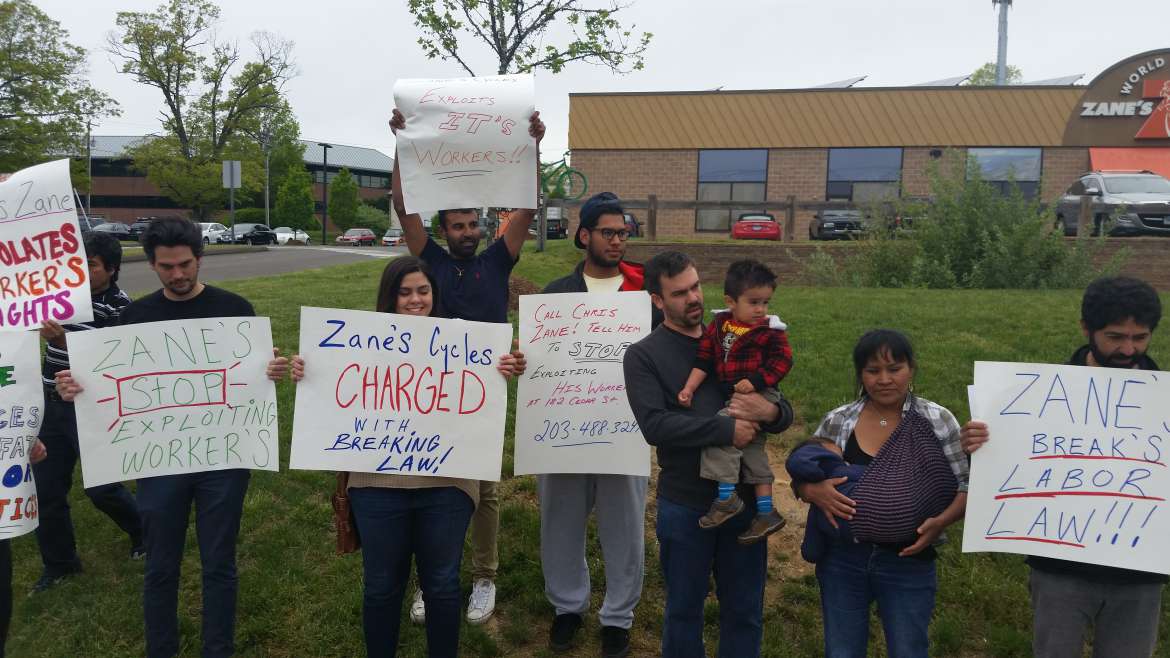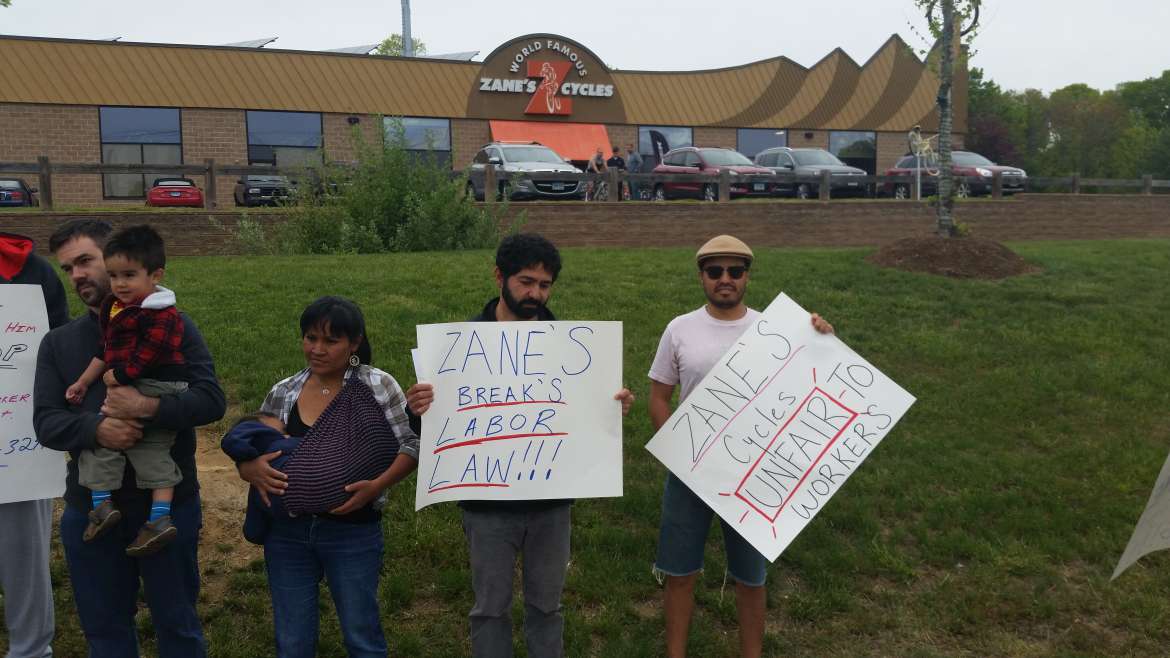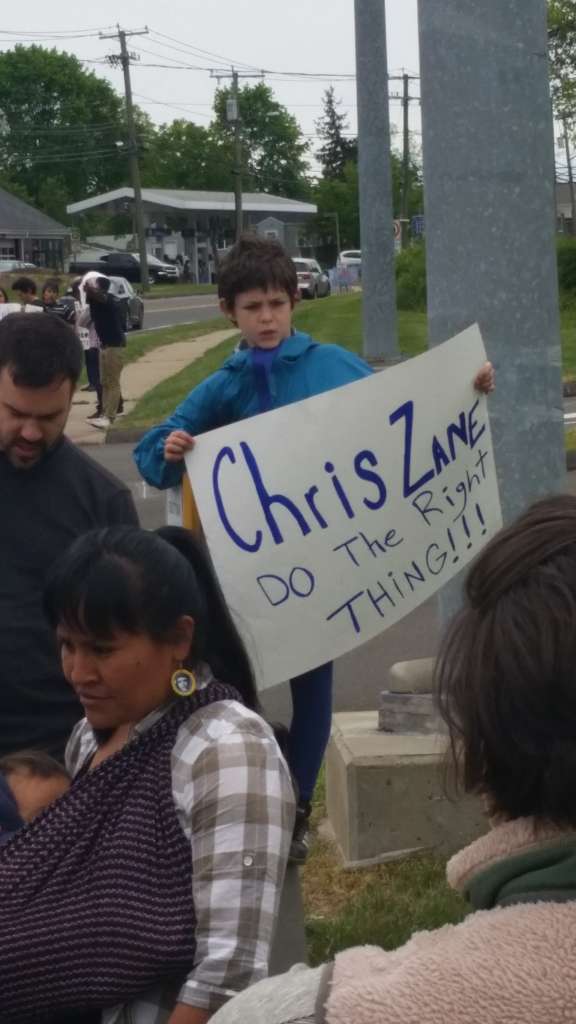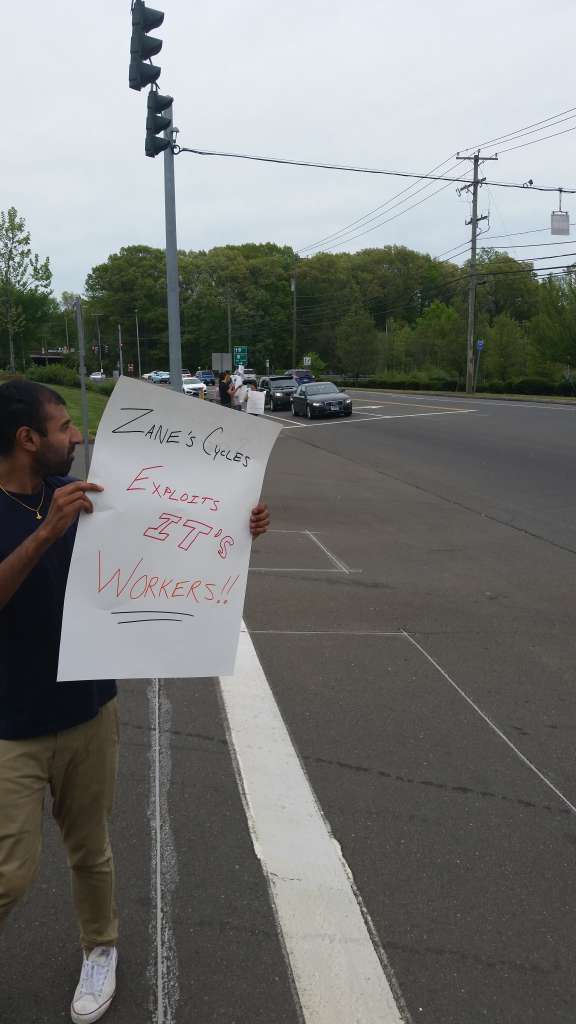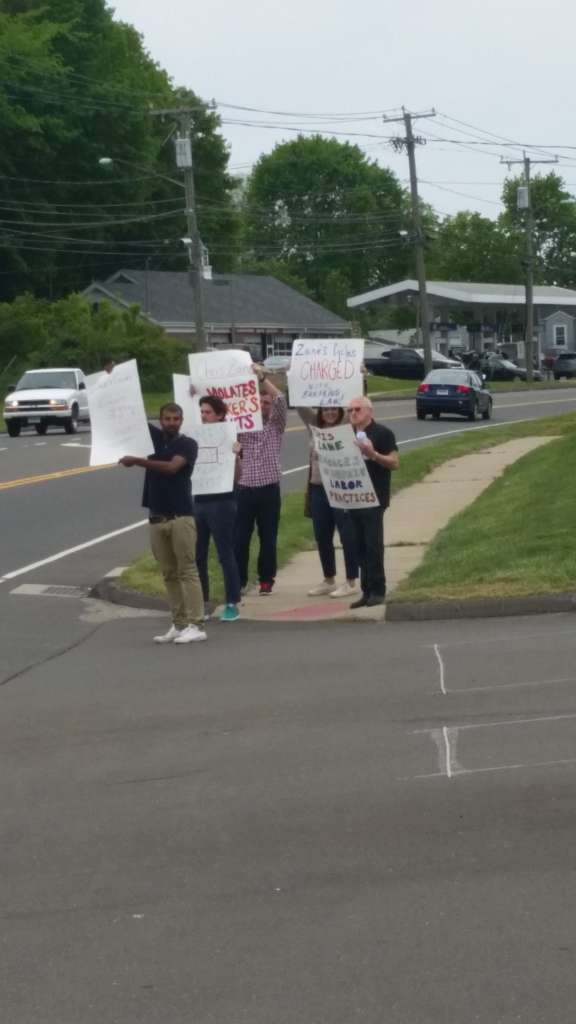 Click on the Link below to sign the online petition!
Zane's Cycles Workers Demand a Fair Contract! Tell Zane's Cycles-Stop Exploiting Workers!!
In September 2015, workers at Zane's Cycles facility located a 182 Cedar St. in Branford voted overwhelmingly, under federal labor law, to bargain collectively for a workplace contract. The workers elected UFCW Local 919 to represent them in contract negotiations. Since then, Zane's Cycles boss Chris Zane has only agreed to meet 8 times to negotiate a contract with the workers. That's only 8 negotiating sessions in 8 months!!
Among the issues workers want to address, which Zane has refused to reasonably discuss, are:
-Having a clean, sanitary break room (currently workers eat their lunch in the dirty, greasy work area were they assemble thousands of bikes for Zane)
-Adequately heated and cooled working area (workers tell us it is often too cold in the winter and too hot in the summer…many have to wear coats and scarves while they work in the winter and drink lots of water to remain hydrated in the summer)
-Paid Sick Days (Workers lose money when they or a family member is sick)
-Paid Vacation Days (After building thousands of bikes for Zane and making him rich, workers can't even count on a paid vacation after so much hard work)
-Paid Time Off to Mourn the Death of a Family Member (Zane won't even agree to pay a worker who has to go to a funeral for their family member!! This is cold and callous!)
Chris Zane exploits his workers who make him rich! Because of his behavior Zane's Cycles has been charged with violating federal labor law. The charges are currently before the National Labor Relations Board. Tell Chris Zane…Stop Exploiting Workers!!
Local 919 Members Ratify their New 3 Year Stop & Shop Contract!
Pictures from tonight's Ratification Meeting!!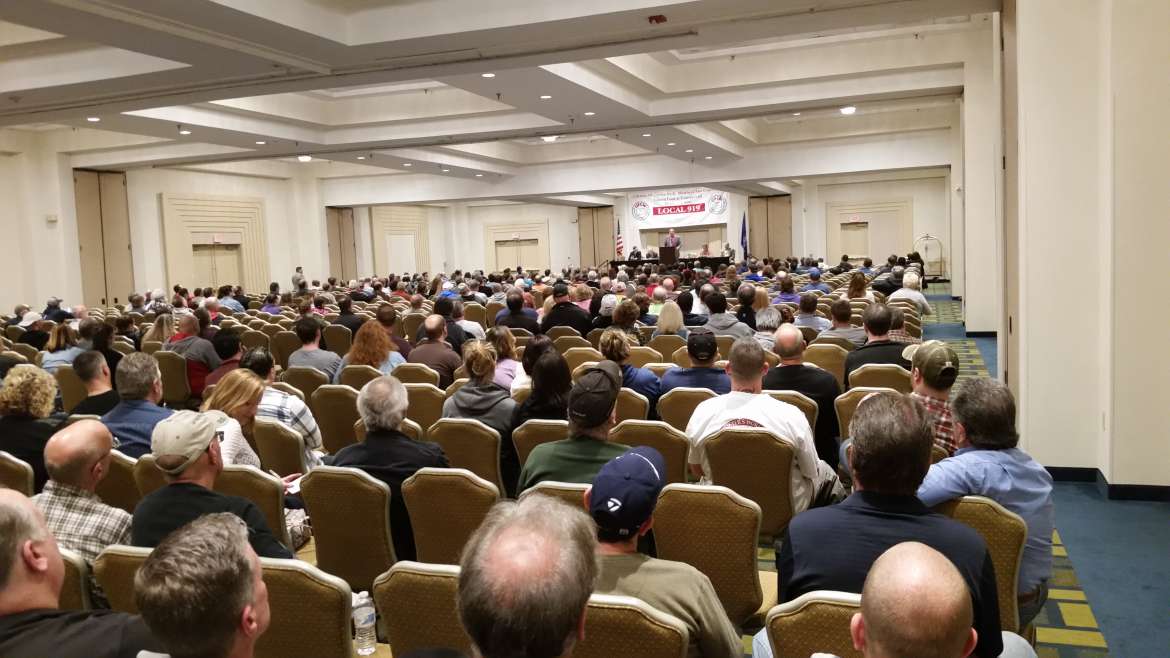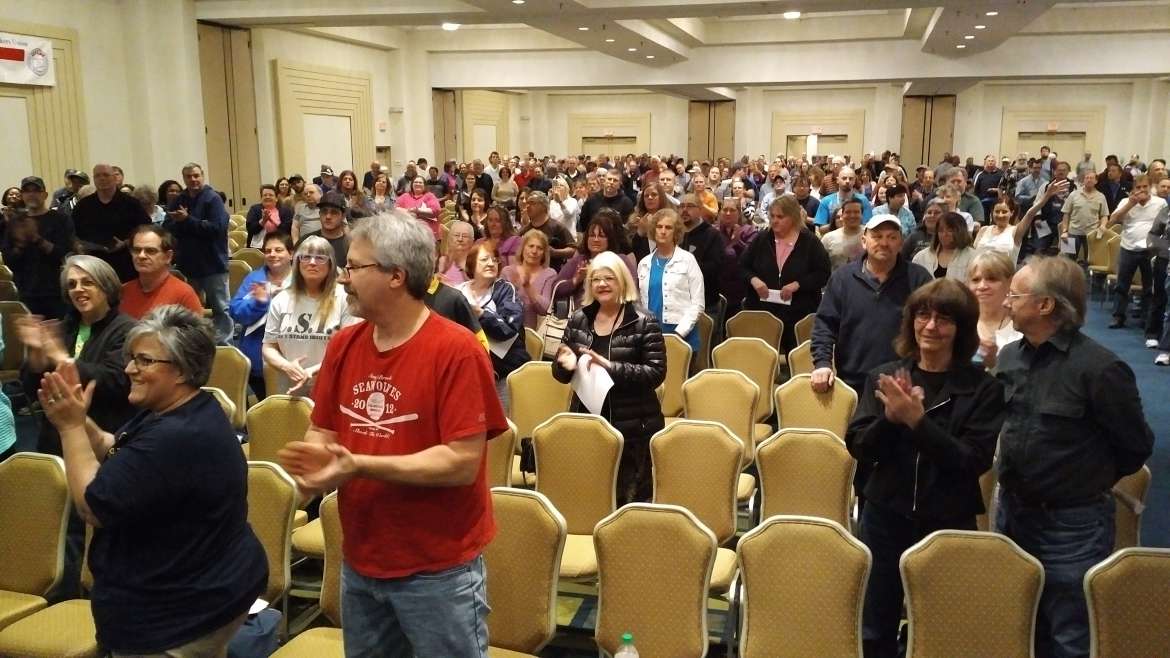 Short Video Executive Vice President Maureen Mas being acknowledged for her soon to be retirement and years of dedication to Local 919 and its' Membership!
STOP & SHOP WORKERS AND THE COMMUNITY HOLD A LARGE RALLY FOR A FAIR DEAL at Braintree Stop & Shop in Ma.  Juliette Sabo, Employee of Store 673 Fairfield CT, UFCW Local 919 Executive Board Member and Shop Steward speaking to the crowd below!

Labor Board Hands Whole Foods Workers a Victory!
Click the Link below to read how UFCW Local 919 Pioneered and fought for this change!
http://www.cbsnews.com/news/labor-board-hands-whole-foods-workers-a-victory/
The Boston Globe Reports on the UFCW's latest TV Ad focused on Stop & Shop
http://www.bostonglobe.com/business/2015/12/23/twist-union-campaign-praises-employer-this-case-stop-shop/AbZUvGxLYJfOOAEmIMVVhK/story.html?s_campaign=8315
A Special Thanks and Appreciation to those members who brought toys to our December 14, 2015 General membership meeting!  Local 919 Business Representative Shane Allen was proud to bring so many wonderful toys donated by, and on behalf of this great Union Membership to those in need at WTIC's Annual Salvation Army Holiday Store Drive!  Our Union does so much good in the community!  All of us at your Local 919 Union Family Wish You and Your Union Family a Safe and Happy Christmas Holiday and a Happy and Prosperous New Year!
Today, October 30th 2015, Local 919 was proud to be the recipient of this prestigious award from the Connecticut AFL-CIO at their Annual Convention for our dedication to growing this great Union!